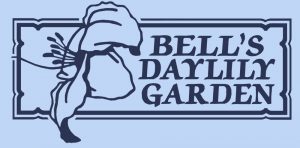 The 2023 website is up to date! 
The 2023 collection is now available to view.  Please note that Lilly My Love is NOT included in the 2023 Special Collection Price.     
******************************
Official 2023 AHS Display Garden
We Grow …
             over 900 of the newest and best daylilies on the market!
We Guarantee….
             Freshly dug, true to name, and state inspected plants. We always send double divisions (or more if possible). If not 100% satisfied, please contact us.

We will not Guarantee…
            Plants shipped, planted, and lost because of freezing temperatures during the winter months.  Please request a shipping date suitable for outdoor planting in your area (planting inside in pots is not guaranteed.)
***We are a small family business. Please give us at least 7 days processing time from the time you place your order until the time we ship.  We ship only on Mondays and Tuesdays.***
Tim and Linda Bell
Mailing: 1305 Griffin Road,  Sycamore, GA 31790
Garden Location: 455 Bell Road,  Sycamore, GA 31790
Phone: (229) 256-1234 
Open:   Wednesday – Saturday, 8 am – 4 pm
It's always good to call before a visit to make sure someone is available to dig.
Our peak bloom season is mid-May to mid-June.   
For every order $50.00 and over (excluding tax and shipping fees), we send  a 20% FREE plant as a "Thank You" for ordering with us!  We call this FREE plant the "Bonus".  Example: for a $100.00 worth of daylilies , you will receive a $20.00 plant free. For a $300 order (excluding tax and shipping), we send a $60 FREE plant. We prefer you to give several possibilities to choose from in case we are very low on inventory of one. We understand that 20% of a $50 daylily order (excluding tax and shipping) equals $10.00.  We do not have any $10.00 plants, but please list any $15- $20 plants for bonus choices on orders of $50-$100.  If a bonus option is not provided by you, we choose one for you. We do not guarantee you will receive the plant of your choice, but we will accommodate you as well as we possibly can!
Thank you for your patience and support!!!
It is a pleasure doing business with you!